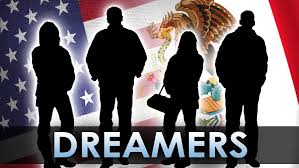 During the presidential campaign, president-elect Donald Trump said he plans to do away with the DACA program. Trump has provided no specifics, and has not said when this might happen. DACA was authorized in 2012 by the Department of Homeland Security.  Eligible undocumented persons who came to the U.S. as children got work authorization, protection from deportation, and were eligible to apply for a travel permit for work-related, school-related or humanitarian purposes.
Before Congress adjourned earlier this month, two senators introduced the BRIDGE Act, whose intent is to allow "DREAMERs" – people who are eligible for or who have received work permits and temporary deportation relief through Deferred Action for Childhood Arrivals (DACA) – to continue living in the U.S. with government permission.
At this point the BRIDGE Act is NOT law; it is only a bill.  Currently there is no BRIDGE Act application process.  So do not pay anyone to help you file a BRIDGE Act application.
On the other hand, if you've never received DACA before, or have questions about applying to renew DACA, contact our office.  We have successfully gotten many people DACA protection, work permits, and travel permits.
What would the BRIDGE Act do?  
The BRIDGE Act would allow qualified people to apply for and receive deportation protection and a work permit for a three-year period. The requirements are basically the same as the requirements for DACA under the program that was created in 2012.
People who already have DACA would be protected until their DACA's expiration;  then they would be able to apply for "provisional protected presence."
The BRIDGE bill also would prevent sharing DACA information with U.S. Immigration and Customs Enforcement (ICE) and U.S. Customs and Border Protection for purposes of immigration enforcement.
The American Immigration Lawyer's Association (AILA – of which attorney Lynn Olinger has been a member for more than 15 years) has a brief YouTube video about the BRIDGE Act (and also about another bill, the SAFE Act, which has some bad provisions).  Here it is: